Festivals
Festivals or Powwows are an essential part of the Native Culture. They allow members of that community to celebrate, mourn and gather together from their separate lives as a tribe if only for a few hours. Each festival symbolizes something: an event, a ritual, an honoring, and prayer, anything the tribe may need can be expressed through a festival. The gathering does not have to be a large production, some are simply a meeting of family and friends to eat together and talk. Others are more elaborate, with each attending member dressed in traditional regalia, dancing to drum and flute music while singing their prayers to the heavens. The Nause Waiwash practices four festivals, though only one is public.
Green Corn -
A festival celebrated on the full moon when the first crop is ready to harvest. It is a time to bless Mother Earth and thank her and the Creator for providing food and life for another year. It is a time to prepare for hard work and harvest, and rejoicing in a plentiful food source. Food, friends, family, stories, and songs are common during this festival. While it is not a large event, it is an anticipated part of our beliefs to honor Mother Earth for providing life-sustaining crops. It is said that this is also a time to trade crops and barter for skills that will improve the quality of the harvest.
Gathering of all Nations -
The largest of our powwows and the only one made available to the public. It is held every year on the second weekend after Labor Day in the Vienna Maryland Ball Park. We invite tribes from all over the world to attend. Here they sell their wares, demonstrate skills passed down through blood, teach craft making, and present the history of their culture to the public for educational purposes. We pride ourselves on honoring the traditions of the living, dead and future generations so that our history and presence may live on in the world.
Feast of the Dead -
Traditionally held the end of October or the beginning of November, this festival is dedicated to those who have passed on. During this powwow, we remember those we have lost and share stories from their time among the living. It is custom to set up a table with photos, plants, and memorabilia from those family members who have passed, and whose living relatives are present. A feast is prepared and an offering plate is created to place among the photos to honor them. After the dead have been honored with the plate, then those gathered may eat and share stories, while reminiscing about the past.
Soyal -
Typically celebrated around Christmas or the Winter Solstice, this festival is all about honoring the past year and praying for a prosperous new season. It is a time a feast and seed trading among women and men. By doing this, we hope to offer our members variety within their fields and suitable crops for their families. Here we honor Mother Earth once more as we reflect on past seasons and enjoy the company of friends and family.
Current Festival Information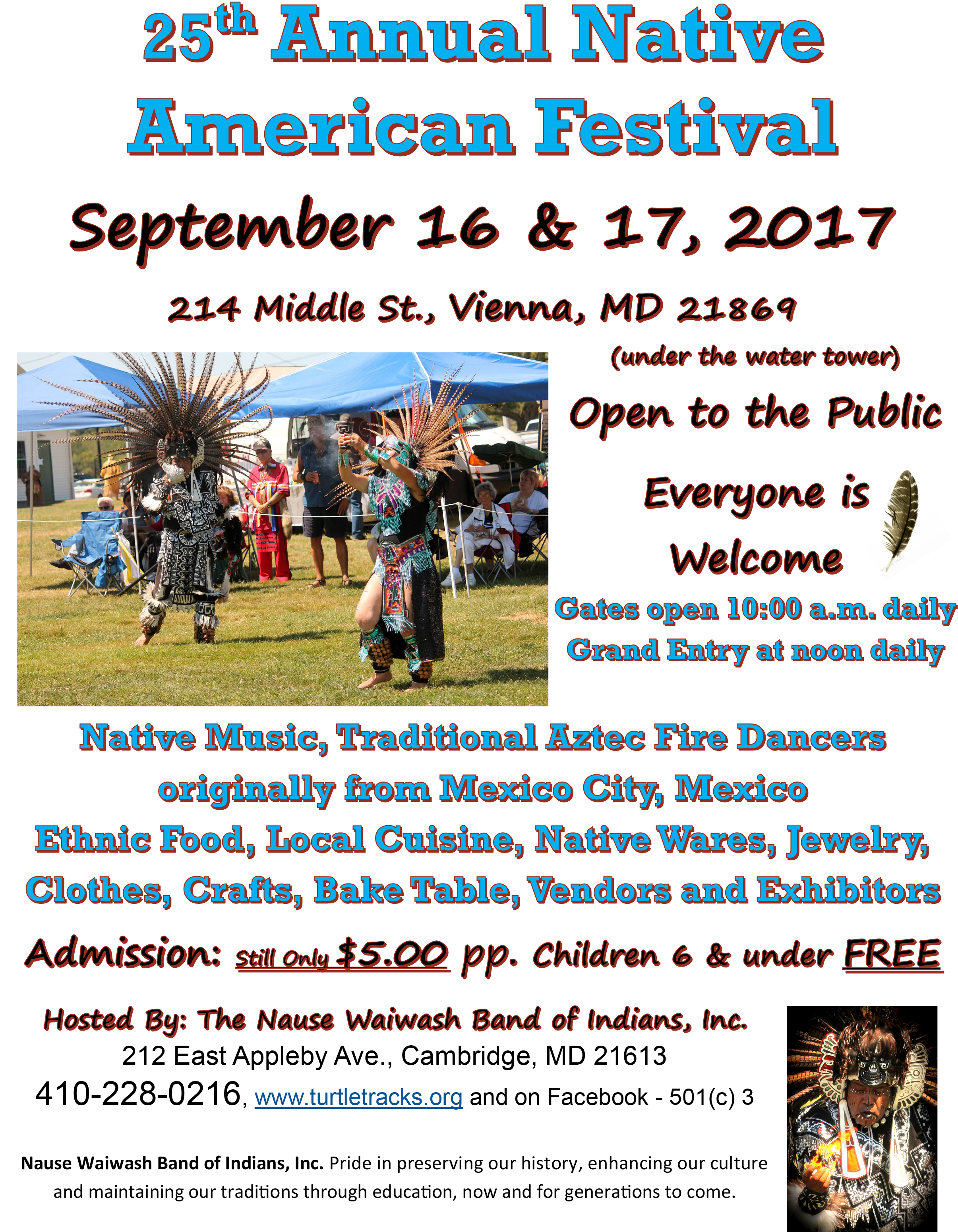 Previous Festival Information
24th Annual Native American Festival
Dates: September 17 & 18, 2016
Location: Ball Field
214 Middle Street
Vienna, MD 21869
Administration
Master of Ceremonies: Bruce McWilliams
Head Male Dancer: Marcos Almanza
Head Female Dancer: Dorothy Almanza
Flutist: Ron Warren
Host Drum: Red Fire Singers
Guest Drum: NaMaWoChi
Arena Director: Steve Miller
Historian/Educator: Rie Miller
Entertainment
Traditional Dancing *Grand Entry is at Noon each day
Authentic Native Food
Demonstrations and Exhibits
Vendors
Silent and Live Auction *Live Auction throughout the day Saturday, Silent Auction Ends Sunday at 2:30 PM
Bake Sale
Crafts and Raffles
Featured Events: Maryland Archaeological Conservancy's Petroglyph Exhibit
Admission
Admission is $5
Children 6 and under enter free
For group rates please call the tribal office
Active Military with Military ID –FREE
NO PETS, (Service animals are fine.) NO DRUGS, ALCOHOL OR ATTITUDES; PLEASE! FOR ADDITIONAL INFORMATION CALL THE NWBI OFFICE 410-228-0216*
Festival September 19-20, 2015
Gates Open:
Saturday: 10 AM - 5 PM
Sunday: 10 AM - 4 PM
Grand Entry at Noon both Days
BALL FIELD IN VIENNA, MD:
*Follow the signs from Rt. 50 to Vienna between Cambridge and Salisbury. Enter Vienna and follow the signs to the Festival at the Ball Field.
Administration
Master of Ceremonies: Rie Miller
Head Male Dancer: Marcos Almanza
Head Female Dancer: Dorothy Almanza
Host Drum: Red Fire Singers
Invited Drum: Namawochi
Arena Director: Steve Miller
Honor Guard: TBA
Host Motel: Days Inn
Entertainment
Traditional Dancing *Grand Entry is at Noon each day
Authentic Native Food
Demonstrations and Displays
Vendors
Silent and Live Auction *Live Auction begins Saturday at 2:30 PM, Silent Auction Ends Sunday at 2:30 PM
Bake Sale
Crafts and Raffles
Featured Events: Department of Natural Resources Scales and Tales Exhibit Maryland Archeological Conservancy's Petroglyphs Exhibit
Admission
Admission is $5
Children 6 and under enter free
For group rates please call the tribal office, payment is due Sept. 1st
Active Military with Military ID –FREE
NO PETS, (Service animals are fine.) NO DRUGS, ALCOHOL OR ATTITUDES; PLEASE! FOR ADDITIONAL INFORMATION CALL THE NWBI OFFICE 410-228-0216*